Saginaw Control and Engineering
95 Midland Road Saginaw, MI 48638-5770
(800) 234-6871 - Fax: (989) 799-4524
SCE@SaginawControl.com
SCE-DF30EL24LP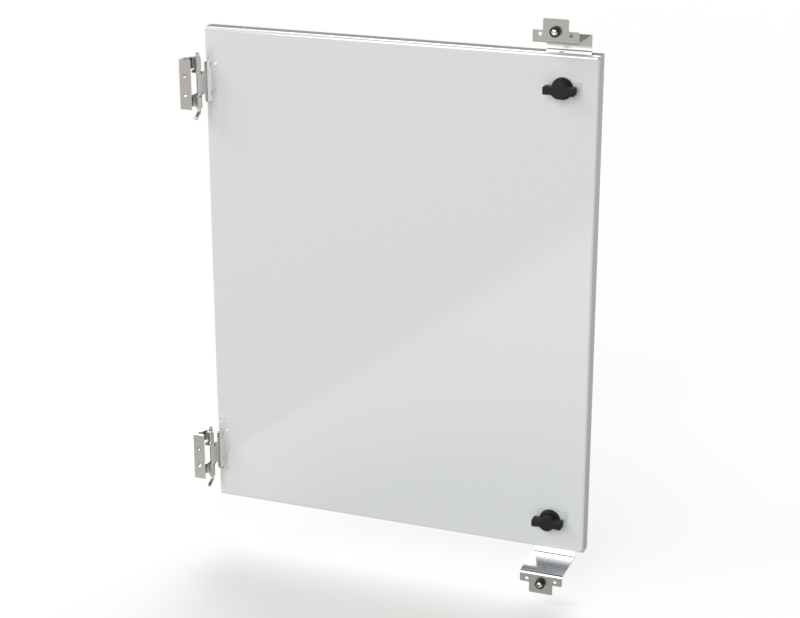 Product Specifications:
Part Number: SCE-DF30EL24LP
Description: Panel, Dead Front (Wall Mount)
Height: 26.00"
Width: 20.63"
Depth: 0.83"
Price Code: P2
List Price: $113.44
Catalog Page: 450
Est. Ship Weight: 19.00 lbs
Application
Designed for use in Wall Mount Enclosures with SCE concealed hinges.

Dead front panels are designed as a fixed depth panel to be mounted directly behind the existing hinged door. This allows space to mount: gauges, meters and push buttons directly behind the front door making them easily visible when mounting them through the main door is not an option. Dead front panels also provide a barrier against incidental contact with live components during routine monitoring or maintenance of equipment.

Dead front panels are installed by mounting hinges back to back with the existing door hinge of the enclosure and only adding two additional holes on the latching side of the enclosure to mount the latch brackets. Dead Front panels include quarter turn wing knobs for easy entry to the interior and mounting hardware to maintain the environmental rating of the enclosure.
Finish
Powder coated white inside and out.
Industry Standards - (IS17)
NEMA Not Applicable
UL Not Applicable
CSA N/A
Notes
Cutout will need to be added for clearance of Defeater and defeater hook when use in Flange mount disconnect enclosure