Saginaw Control and Engineering
95 Midland Road Saginaw, MI 48638-5770
(800) 234-6871 - Fax: (989) 799-4524
SCE@SaginawControl.com
SCE-47XVR2514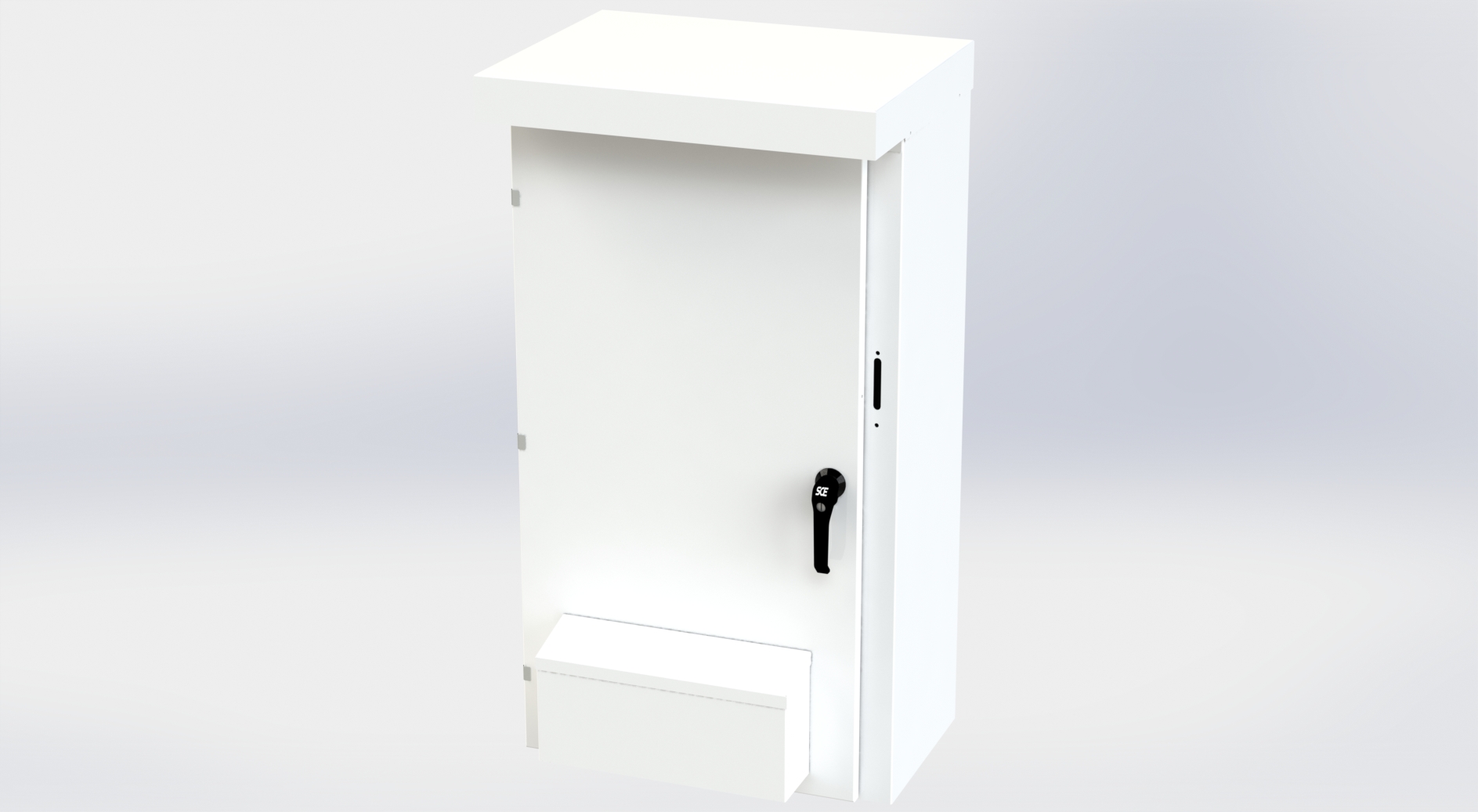 Product Specifications:
Part Number: SCE-47XVR2514
Description: Enclosure, Vented Type 3R Disconnect
Height: 47.00"
Width: 25.38"
Depth: 14.00"
Price Code: N3
List Price: $1,380.12
Catalog Page: 112
Est. Ship Weight: 215.00 lbs
System CFM: 300
Volt: 120 VAC
Construction
0.075 In. Galvannealed Steel.
3-point latching mechanism.
Collar studs 3/8-16 provided for mounting optional panels.
Doors open 180 degrees.
Disconnect cutout provided on flange.
Vented top hood with bug screen.
Top mounted fans.
Vented rain hood with filter kits in door.
Din Rail mounting provisions inside top for installation of thermostat and terminals.
Pour in place oil & water resistant gasket
Ground stud on door and body.
Mounting Holes for optional mounting straps.
3/8-16 grounding kit.
Subpanel mounting hardware.
Concealed hinges.
Application
Designed to house electrical controls, drives, instruments and components used in an outdoor environment to provide a degree of protection for the equipment inside the enclosure against ingress of solid foreign objects (falling dirt); and provide a degree of protection with respect to the harmful effects on the equipment due to the ingress of water (rain, sleet, snow). Designed to house most standard disconntects.

For Details about the Design, Performance Expectations, Applications and Design Suggestions - See Design Considerations www.saginawcontrol.com/instman/considerations.pdf
Finish
White powder coating inside and out. Optional sub-panels are powder coated white.
Industry Standards - (IS7)
NEMA Type 3R
UL Listed Type 3R
CSA Type 3R
IEC 60529
IP 32
Notes
SCE-47XVR2514 uses included Self Tripping Defeater Hook Kit