Saginaw Control and Engineering
95 Midland Road Saginaw, MI 48638-5770
(800) 234-6871 - Fax: (989) 799-4524
SCE@SaginawControl.com
SCE-72XEL7324SSST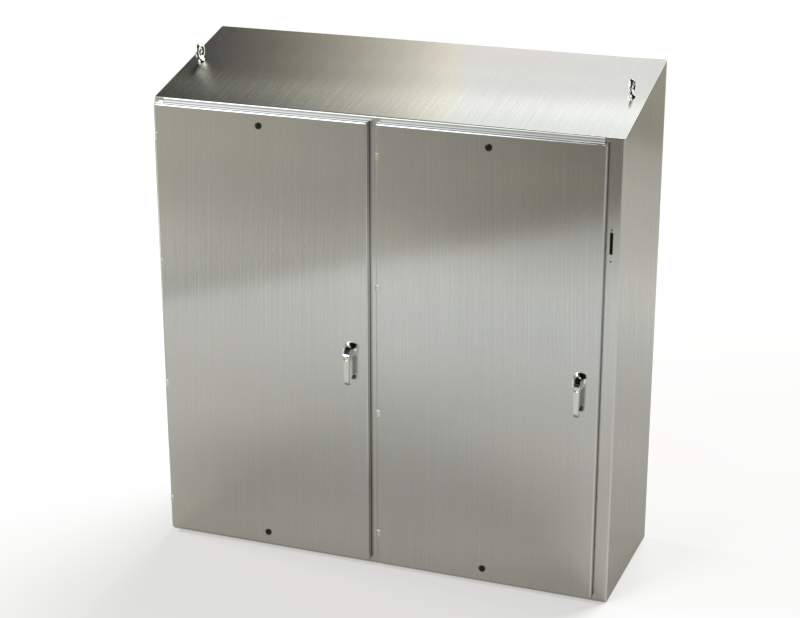 Product Specifications:
Part Number: SCE-72XEL7324SSST
Description: S.S. 2DR XEL Sloping Top Enclosure
Height: 72.00"
Width: 73.00"
Depth: 24.00"
Price Code: S8
List Price: $16,334.37
Catalog Page: 284
Est. Ship Weight: 1,039.00 lbs
Construction
0.104 In. stainless steel Type 304.
Seams continuously welded and ground smooth.
Flange trough collar around all sides of door opening.
15 degree sloping top.
Removable center post.
Heavy duty lifting eyes anchor into reinforced top.
Body stiffeners.
Stainless Steel concealed hinges.
Mechanical Interlock.
Stainless Steel coinproof/padlocking handle on main door with Stainless Steel padlocking handle on slave doors.
3-point latching mechanism.
Removable print pocket on main door of disconnect enclosures.
Provisions for floor stands.
Panel Supports.
Pour in place oil & water resistant gasket
Ground stud on door and body.
Provisions for light kit.
Application
Designed to house electrical and electronic controls, instrumentation and components in indoor, outdoor and sanitary locations. Designed to house most standard type disconnects.
Finish
#4 brushed finish on all exterior surfaces. Optional sub-panels are powder coated white.
Industry Standards - (IS6)
NEMA Type 3R, 4, 4X, 12 and Type 13
UL Listed Type 3R, 4, 4X and 12
CSA Type 4, 4X and 12
IEC 60529
IP 66
Notes
Disconnect switch (or circuit breaker) and operating mechanism are not furnished with this enclosure.

SCE-125738 Defeater kit is required for use with Mechanical Defeater when using Siemens and ABB Flange mount Disconnect.

Special Instructions apply for IS3, IS4 and IS6 to maintain the environmental rating of Type 3R for these parts. Instructions are located on the enclosure door. Drip shield is required on IS3, drip shield is recommended on IS4 and IS6. Drain holes are required on all.