Saginaw Control and Engineering
95 Midland Road Saginaw, MI 48638-5770
(800) 234-6871 - Fax: (989) 799-4524
SCE@SaginawControl.com
SCE-60AFSD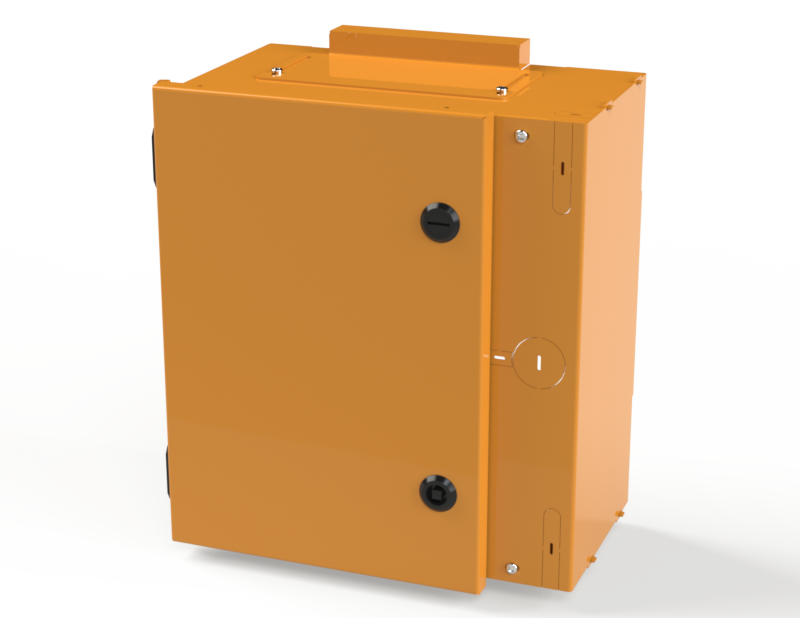 Product Specifications:
Part Number: SCE-60AFSD
Description: Arc Flash Enclosure
Height: 13.50"
Width: 12.00"
Depth: 6.50"
Price Code: P2
List Price: $171.23
Catalog Page: 435
Est. Ship Weight: 13.00 lbs
Construction
0.060 In. carbon steel.
Enclosures are symmetrical for use with left or right hand disconnects.
Removable continuous hinges.
110 degree door stop prevents incidental contact with other components.
Black quarter turn latch.
Black spring loaded quarter turn latch with 7mm square insert and key.
Latches automatically when door is closed.
Gland plate top and bottom provides easy installation of wires.
Mounting holes provided in back for securing to the sub-panel of main enclosure.
Ground stud on door and body.
Application
Designed for use with enclosures that require additional protection against Arc Flash. This enclosure can be used within an environmentally rated enclosure to isolate the main power supply. Increasing personal protection by preventing incidental contact or exposure to the high voltage arc flash and shock hazard, and potentially reducing the PPE level for the lower risk components when the Internal Disconnect Enclosure cover is closed.
The Internal Disconnect Enclosure can be easily incorporated into a new system or added to a pre-existing system on variable depth or cable operated disconnects. Aids in achieving compliance with NFPA 70E by concealing main power supply.
Finish
Orange texture powder coat.
Industry Standards - (IS8)
NEMA Type 1
UL Listed Type 1
CSA Type 1
IEC 60529
IP 30
Notes
For use with Saginaw Control enclosures only.

The proper size of the Internal Disconnect enclosure is limited only space occupied by the disconnect or circuit breaker, minimum spacing requirements provided by the disconnect manufacture and wiring code requirements.