Saginaw Control and Engineering
95 Midland Road Saginaw, MI 48638-5770
(800) 234-6871 - Fax: (989) 799-4524
SCE@SaginawControl.com
SCE-24P16GALV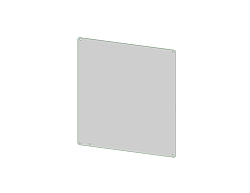 Product Specifications:
Part Number: SCE-24P16GALV
Description: Subpanel, Bent Galvanized
Height: 21.00"
Width: 13.00"
Depth: 0.88"
Price Code: P3
List Price: $32.92
Catalog Page: 310
Est. Ship Weight: 11.00 lbs
Edge Flanges: Four
Configuration: C
Construction
Plates made greater than 60" in height and width are two piece bolt together Plates.
Application
Subpanels are constructed from galvanized steel for direct bonding of electrical components. Size determines steel thickness.
Industry Standards - (IS17)
NEMA Not Applicable
UL Not Applicable
CSA N/A