Saginaw Control and Engineering
95 Midland Road Saginaw, MI 48638-5770
(800) 234-6871 - Fax: (989) 799-4524
SCE@SaginawControl.com
SCE-HWK2228SS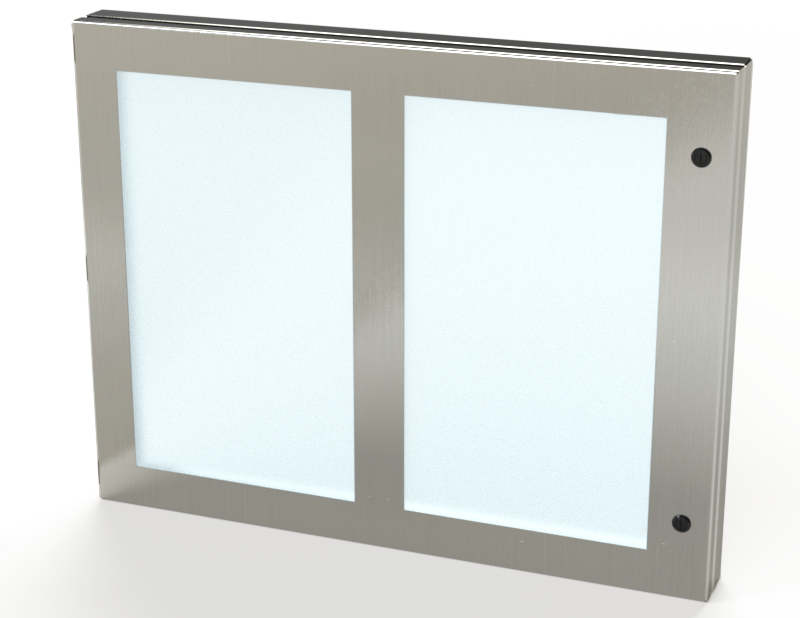 Product Specifications:
Part Number: SCE-HWK2228SS
Description: Kit, S.S. Hinged Window
Height: 22.00"
Width: 28.00"
Depth: 1.50"
Price Code: P6
List Price: $1,296.42
Catalog Page: 398
Est. Ship Weight: 25.00 lbs
Finish: Stainless
Application
Designed to mount on the exterior of an enclosure to provide protection for controls with easy access. ELJ hinges. Black mini quarter turn latches. UV stable polycarbinate viewing window. Gasket and hardware included.
Finish
ANSI-61 gray powder coat.
"SS" parts are made stainless steel Type 304 with #4 brushed finish.
Industry Standards - (IS3)
NEMA Type 3R, 12 and Type 13
UL Listed Type 3R and 12
CSA Type 3R and 12
IEC 60529
IP 55
Notes
Recommend use as Type 3R rating in full outdoor exposure and extreme weather environments - the addition of ventilation is necessary to handle the large negative pressure differential caused in a tightly sealed enclosure in extreme weather conditions.
Temperatures that may exceed 140°F, such as outdoor in direct sunlight should be evaluated, shading or sun shield may be necessary

For more details see Design Considerations When Specifying Your Enclosure on our website.

UL File #E69392