Saginaw Control and Engineering
95 Midland Road Saginaw, MI 48638-5770
(800) 234-6871 - Fax: (989) 799-4524
SCE@SaginawControl.com
SCE-12PBGX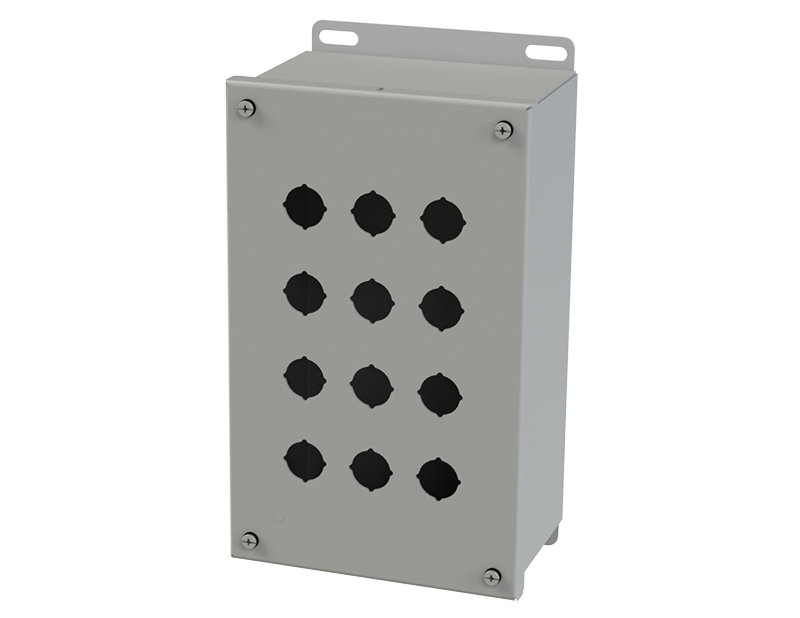 Product Specifications:
Part Number: SCE-12PBGX
Description: PBGX Enclosure
Height: 10.38"
Width: 6.25"
Depth: 4.25"
Price Code: A1
List Price: $106.60
Catalog Page: 48
Est. Ship Weight: 7.50 lbs
Mounting Centers (G): 10.88
Mounting Centers (H): 5.62
Construction
0.063 In.carbon steel.
Continuously welded seams.
Captivated cover screws thread into sealed wells.
''4-way'' miniature pushbutton holes accept all brands of oil-tight pushbuttons, switches and pilot lights. Hole diameter is 0.87 In.
Immediate removal of cover is still permitted.
Oil-resistant door gasket.
Application
Designed to offer protection for miniature oil-tight pushbuttons, switches, and pilot lights from dust, dirt, water and oil.
Finish
ANSI-61 gray powder coat inside and out.
Industry Standards - (IS2)
NEMA Type 4, 12 and Type 13
UL Listed Type 4 and 12
CSA Type 4 and 12
IEC 60529
IP 66